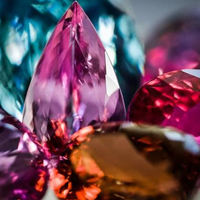 JOGS Tucson Gem & Jewelry Show at the Tucson Expo Center on Early 2019
The JOGS Tucson Gem and Jewelry Show is one of the leading Jewelry events in North America for all jewelry industry professionals and it is one of the key jewelry markets in the world.
JOGS Tucson Show brings together intercontinental manufacturers and wholesalers of jewelry, showcasing new designs and new ideas. Exhibitors bring the best selection and largest stocks to choose from.
Gem dealers and miners bring their best rough materials, cabs, best quality of cut stones, minerals and new discoveries from Russia, Brazil, USA, Thailand, India, Madagascar, Africa, Colombia, Australia, Canada, China and other countries, attracting gem hunters from around the world.
Admission for registered buyers is free on our website, tickets available for purchase to the public through Eventbrite.
3750 E. Irvington Road, Tucson, AZ 85714
International and Domestic Pavilions
Amber Pavilion - top amber direct manufacturers and designers from Poland, Russia, Lithuania, Indonesia and Columbia with large variety of amber cameos, carvings and natural Baltic amber beads and Designer Baltic amber jewelry set in sterling silver and gold
Southwest Pavilion - the varied styles of some of the most prominent Handmade Native American Jewelry, Southwestern/Indian Arts and Crafts reflect the mastery of techniques refined over hundreds of years and the influence of neighboring cultures
Top US Turquoise Pavilion - paradise for turquoise hunters. Major miners and dealers with finished sterling silver jewelry, cabochons, beads and rough from the world's best turquoise mines. Bisbee turquoise, Kingman turquoise, Sleeping Beauty Turquoise, Nevada turquoise, New Mexico turquoise, Cripple Creek, Colorado, and extraordinary collection of Iranian turquoise
Indonesian Pavilion - gathered all silver manufacturers; direct manufacturers and designers of sterling silver and gold jewelry with semi-precious stones, shells, wood, pearls and corals, handmade from Bali and all around Indonesia - the most popular Pavilion
Nepal Group Pavilion - ethnic tribal handcrafted jewelry, crafts and gifts from Nepal and Tibet
International Designers Pavilion - diversification of trendsetting designers from around the world presenting modern intricate jewelry lines
Silver Pavilion - superior selection of finished sterling silver jewelry presented by the largest silver jewelry manufacturers and famous jewelry designers from USA, India, Mexico, Thailand, Indonesia, Italy and other countries
Gemstone Pavilion - international dealers bring their stocks of gemstones, precious and semi-precious from low to exceptional quality; rarest colored stones, cut stones, specimen, cabs, rough, fossils and beads from Thailand, India, Brazil, Sri Lanka, Columbia, Africa, Russia, Bolivia, and other countries
Stone/Mineral Decor Pavilion - finished gemstone products, rough materials for decor purposes: sculptures, luxury fountains, stone and petrified wood furniture, onyx decorative home and kitchen decor, hand carved interior decorations from China, Madagascar, Brazil, Africa, and much more
JOGS Tucson Show Presents
Diverseness of products, materials, colors, shapes, sizes and design
Dealers from 26 countries
Jewelers, dealers, miners, offering exclusive only Event specials with the best prices of the year
Direct source purchases
Business connections with designers, manufacturers, miners, stone cutters or direct importers
Unique exhibits and presentations during the Event - expositions from the world famous museums, rare private collections, international fashion shows and much more
New jewelry trends and newly discovered stones
More than 200 jewelry making classes and seminars organized by JewelryTools.com

Products available at the JOGS Shows
Gemstones, precious and semi-precious
Gemstone decor and carvings
Raw materials and minerals
Beads and cabochons
Jewelry displays and accessories
Watches and more
Crystals
Jewelry tools
Jewelry packaging
Fine jewelry
Fashion Jewelry
Designer jewelry
Silver jewelry
14-18K Gold jewelry
Ethnic/Tribal jewelry
Diamond jewelry and loose diamonds
Organic jewelry - pearls, amber, corals, shells, etc
Coin Jewelry
Findings

Services
Complimentary shuttle transportation
Over 1000 free parking spaces
International food court
Business and shipping services for JOGS attendees

Admission
WHOLESALE buyers receive free entrance with registration:
Registration
PUBLIC guests are welcome to the show, tickets can be purchased here:
Tickets